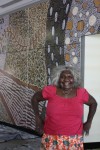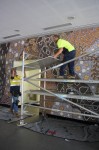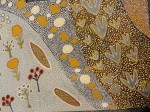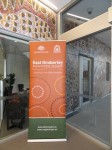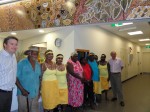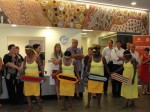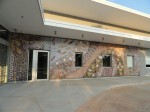 WARINGARRI BUSH MEDICINE PROJECT
COMPLETED NOVEMBER 2012
LOCATION:

KUNUNURRA- WA DPT OF HEALTH WA COUNTRY HEALTH SERVICE
ARCHITECTS:

BATEMAN ARCHITECTS, PERTH
PRODUCT:

VITRAPANEL CUSTOM IMAGE
ARTISTS:

WARRINGARRI ABORIGINAL ARTS
http://www.waringarriarts.com.au/aboutus.html
THE BUSH MEDICINE PROJECT IS A COLLABORATIVE EFFORT BY 9 WARINGARRI ARTISTS
AFTER WORKING FOR ALMOST 6 MONTHS USING THE THEME OF BUSH MEDICINE THE ARTISTS CHOSE AND COMPLETED A CHOSEN ARTWORK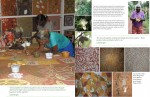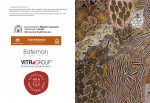 Bush Medicine Catalogue Booklet 
THE ART WORK WAS SCANNED USING A HIGH QUALITY PROFESSIONAL SCANNER  ORGANISED BY VITRAGROUP THE SCANNED IMAGE WAS SCALED UP  TO 33X3 METRES. THE SCALED UP IMAGE WAS THEN DIGITALLY PRINTED ON  VITRAPANEL CUSTOM IMAGE PANELS AND INSTALLED AS THE "BUSH MEDICINE WALL"
"I enjoyed this project, It made me happy to learn with other artists.  Now I am proud to see the finished wall and proud my kids can also see it." Gloria Mengil
On the 22nd of November Waringarri artists Alan Griffiths, Peggy Griffiths, Louise Malarvie, Delany Griffiths, Kittey Malarvie, Phyllis Ningaramara & Judy Mengil participated in the official opening of the new Kununurra Ochre Health Centre. Alongside Minister for the Arts Simon Crean and WA Minister for Regional Development Brendon Grylls, Judy Mengil addressed guests with a short speech as fellow artists welcomed, sang and danced.
The health centre is a great source of pride for Waringarri artists who collaborated in the large scale "bush medicine" themed art installation located in the main foyer and entrance of the new building. Bush Medicine catalogues detailing the project can be downloaded here.
Please contact sales@waringarriarts.com.au for copies.
THE BUSH MEDICINE ORIGINAL ARTWORK IS A FINALIST IN THE
2013 Sir John Sulman Prize
NSW ART GALLERY
http://www.artgallery.nsw.gov.au/prizes/sulman/2013/29431/
The Sulman Prize is awarded for the best subject painting, genre painting or mural project by an Australian artist.
A mural is a picture fixed directly to a wall or ceiling as part of an architectural and/or decorative scheme.
Established within the terms of Sir John Sulman's bequest, the prize was first awarded in 1936. Each year the trustees of the Art Gallery of NSW invite a guest artist to judge this open competition. Finalists are displayed in an exhibition at the Gallery (although in the early years all entrants were hung).
The Sulman Prize is awarded for the best subject painting, genre painting or mural project by an Australian artist.

Agnes Armstrong, Philomena Armstrong, Phyllis Ningarmara, Kittey Malarvie, Louise Malarvie, Bryan Murielle, Peggy Griffiths, Judy Mengil, Gloria Mengil
Title

Bush medicine

Medium

ochre pigments on board (mural)

Dimensions

370 x 3972 cm

Further information

This mural was created as part of the Bush Medicine Project, a collaborative venture by nine Waringarri artists who were invited to make an artistic contribution to the Ochre Health Centre in Kununurra, Western Australia.Their contribution evolved into a celebration of the practices and importance of traditional knowledge.The artists worked on the project for six months. Initially producing drawings and sketches inspired by the theme of bush medicines, they then developed these into individual works before creating a series of large collaborative artworks.In Bush medicine, the artists celebrate the health and healing properties of bush tucker and plants including the bush tomato, bush cucumber, black plum, bush melon, Boab Boab pith, waterlily, spinifex and wattle tree.